As I bid farewell to the Badlands of South Dakota I headed due west into the Black Hills where the landscaped changed dramatically to a mountainous pine forest. Taking the path less traveled (as I always do) I headed toward Custer State Park (and on the advice of Mike Olmstead's mom, Diane Dulude!) I heard up the Iron Mountain Road to catch a glimpse of Mount Rushmore. This road was an experience all unto itself - click the link to see and if you ever find yourself near Rushmore, this is the path to take! This step winding road of hairpins, switchbacks, tunnels and bridges was artistically designed by long time U.S. senator Peter Norbeck in 1933 while Mount Rushmore was being carved. The road is a work of artful engineering and the perfect foil to your first look at Mount Rushmore National Monument. If you can, this is one of those things a screen or a picture just can't do justice to...you need to stand in it's presence among the rock, trees, and in my case a biker gang that was traveling the route with me :) From Rushmore I worked my way to give my equal respect to Crazy Horse Memorial that is as impressive, even in it's partial completion. The sadness and symbolism of the highly refined Rushmore with its many tourist outlets, hotels, and grand entrance compared to the 60+ year in-process and still unfinished tribute to the Native American heritage. This is a place to see and a worthy thing to contribute to as they receive no state or federal funding.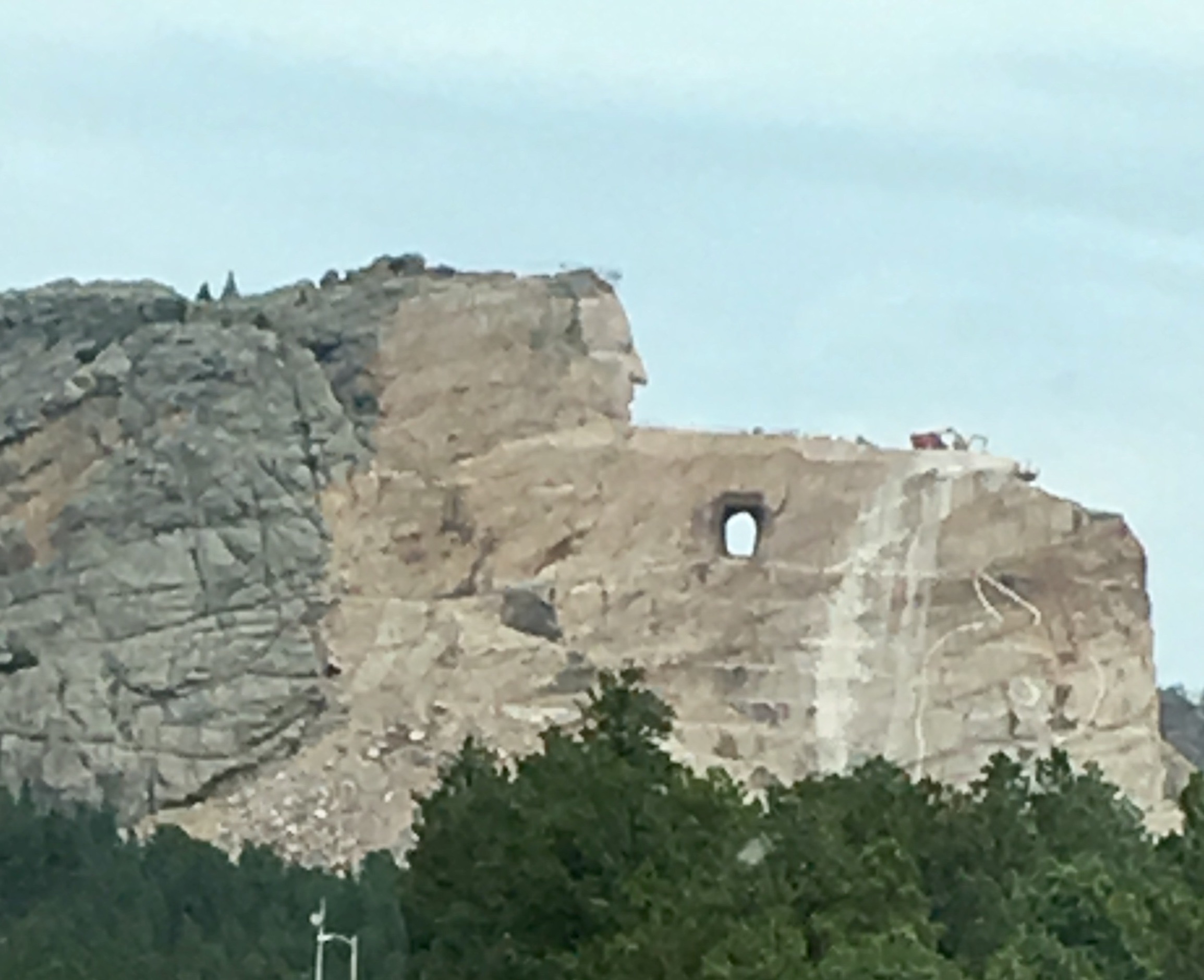 Nest stop - Theodore Roosevelt National Park and the sacred ground of one of the heroes of the conservation movement and establishment of so many national parks, Teddy Roosevelt. Like the South Dakota Badlands, Theodore Roosevelt rise up out of nowhere from the open horizon of cattle farms and oil rigs. Also known as the Badlands, they have a very different feel than their sisters to the south as they are more rounded and gracefully hugging each other and the landscape. I learned that this is because they are not only twice as old, but they were covered by glaciers that wore them down, and the others were not. The landscape was equally breathtaking and the return of green was a welcome sight to this Vermonter.
The first day was an exploration of the Southern Unit (more popular and easily accessible from the highway) - Wildlife was everywhere as I equally enjoyed the vistas and scoured the landscape in search of Bison! It didn't take long as you can see below!!! Once you find one it becomes an obsession and everyone in the park is on a great scavenger hunt, sharing sightings, pointing each other down paths and in different directions to places we had spotted the massive, slow moving creatures that manage to hide themselves away in the shadows. Again, team National Parks, but in this case if you are cool enough to go off the beaten path to visit one of the least visited, but most profound parks like Theodore Roosevelt, there is a kinship among both the visitors and ranger who are grateful for your commitment to make the trek. There is something quietly sacred about this place and it was brought up in more than one conversation with people I encountered...Steeped in history of Roosevelt's life, his commitment to our country AND commitment to preservation of our lands and history is interwoven each step of the way. From the Maltese Cross Cabin with his artifacts, to the original stone and wood structures built by the CCC and the impact the CCC had over many decades in our country. Teddy's spirit abounds here. I was privileged to have a long conversation with Laura, a ranger in the south unit who pointed me to several breathtaking spots as potential painting sites and encouraged me to make the even longer drive north to visit the Northern unit the next day for which I am truly grateful. Intrigued and maybe a bit inspired by my project, she opened up about her passion for this place and it's importance to the park system and our country. More people need to take the time and visit, understand and cherish these places...with the oil pipelines surrounding and oil rigs visible on the farthest horizon from the park - the encroachment and threat to these places is very real. I found myself pondering this the rest of the day and wanting to spend more time just quietly looking, listening, having quieter conversations with people, and yes, some sketching too!
Day two began with a sunrise drive to the Northern Unit where I was literally the first visitor to arrive, even receiving a high-five from the ranger at the gate! My early wake up was immediately rewarded with a single Bison grazing just up the road, not having been scared off by motorists. He didn't seem to mind me and happily grazed while I took shots then watch for a time before moving on :) Having the park all to myself for almost an hour before I saw another car was incredible and allowed me to see it all as it might have been...two spots overlooking the river from above spoke to me and i settled in at Riverbend overlook to paint for the morning. As the park woke up, visitors came and conversation with me abounded. It's so fun to see how enchanted people get watching someone paint and luckily, as a teacher, I don't mind on-lookers...it does slow the process down a bit though! Hopefully I gained several new members of the Postcards from the Parks "tribe of followers like Donna and Ron from Texas that I may run into again in Moab, Vicky and Mark from Wisconsin that are also headed to Yellowstone, or Joan and Lynn from Minnesota that were out volunteering at the Medora Music Festival. All in all, I have to give credit to the Midwest - specifically Michigan, Wisconsin, and Minnesota! These are the people making there way to Theodore Roosevelt and 2 out of 3 people I talked to in the end were from one of these states...It was a bit like old home week for this former Michigander, now Vermonter :) Midwesterner or not, everyone has the same concerns with regard to continuing to protect the parks - Bears Ears, Escalante Staircase, Secretary Zinke all come up in conversations without it be a political conversation of Democrat v Republican.